Italia in Miniatura is one of the historic amusement parks of the Riviera Romagnola, among the most famous for its originality. It is located in Viserba di Rimini, not far from the centre, along the Strada Statale Adriatica. From Lido di Savio you just need half an hour by car to reach the park, and spend an amazing day, educational and fun at the same time. Considering the proximity of the park, numerous hotels Lido Di Savio offer their guests holiday packages with discounts for Italia in Miniatura. Staying in a hotel Italia in Miniatura is the best way to have fun and be amazed.

The boot of the Italian peninsula in fact has never been so small: you can see it all as soon as you enter the park, dotted with reproductions of the most beautiful monuments and the most beautiful mountains. There are 273 masterpieces of handicrafts that can be admired from the Alps to Sicily: the Colosseum, the Cathedral of Milan, the Arena of Verona, the Tower of Pisa ... Nothing is missing and everything can be visited with a few steps. The reproductions of the Italia in Miniatura are really small great works of art, with a very accurate fidelity to the originals.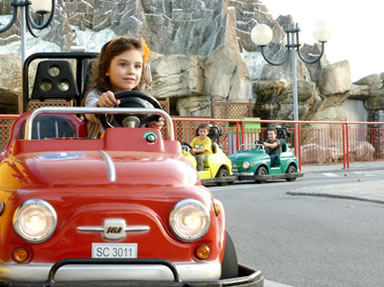 In order to admire the Boot in all its beauty it is possible to climb on two amusement rides in the Park: the Rainbow Monorail and the high Panoramic Tower, built specifically to deliver a complete landscape vision of the reconstruction of Italy. The panoramic tower rises immediately after the Alps, the Rainbow Monorail instead performs a long ride along the entire perimeter of the park, flying over the other amusement rides.

Italia in Miniatura is a place especially designed for entertainment. All around the Boot there are amusement rides such as Cannonacqua,  Canoes, Piazza Italia, Pinocchio or the Small Prehistoric Valley, made to fascinate the audience of all ages. Engine lovers will also find very interesting the possibility to visit a museum dedicated to two large Italian producers: Ducati and Ferrari. Lovers of video games could instead spend their time in PalaPlaystation: an authentic temple dedicated to the famous interactive console. And if someone wants a souvenir, they can make a photo at Scatti di Storia, choosing between hundreds of silhouettes of famous men of Italian history.

Only one amusement ride is missing in the list: The Little Venice. It was Inaugurated many years ago, but is still very appreciated with its incredible charm. It is a trip in a gondola in a Venice rebuilt according to proportions but 5 times smaller. At the end of the Grand Canal, as if by magic, you arrive in the beautiful Piazza San Marco.

Italia in Miniatura
47811 Viserba di Rimini (RN)
239, Via Popilia
Tel: (+39) 0541736736
Email: info@italiainminiatura.com